Happy belated new year, one and all! 2018 sped by in a blur, and 2019 seems off to a roaring start as well. I've recently relocated to North Carolina and am now juggling the various white-hot irons I had in the fire, so this will be a brief update, but expect something more substantial soon. In the meantime, here's the skinny on my newest short fiction and an upcoming event: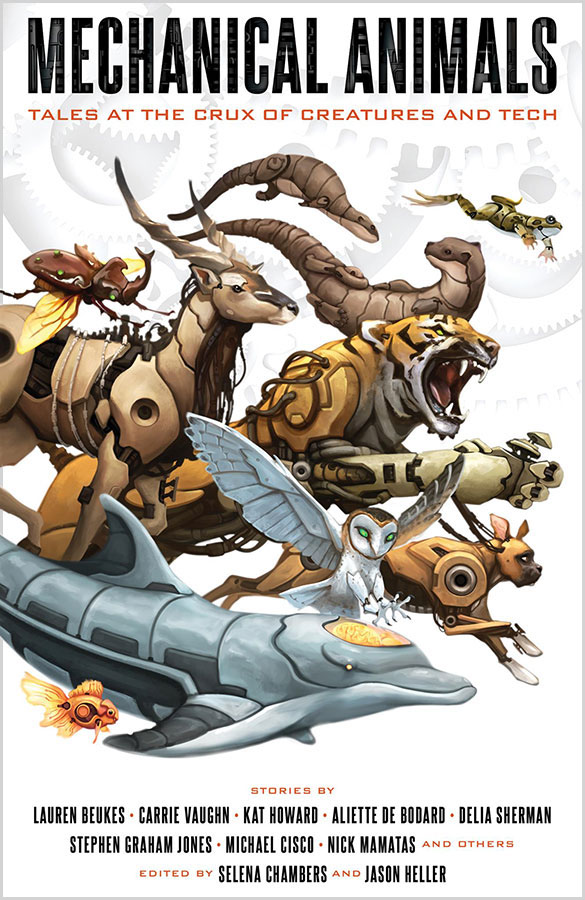 My Kurosawa-by-way-of-Cronenberg story "Stray Frog" is now available in Mechanical Animals: Tales at the Crux of Creatures and Tech. Editors Selena Chambers and Jason Heller put together a really unique collection, and I share the table of contents with Lauren Beukes, Carrie Vaughan, Stephen Graham Jones, Nick Mamatas, Kat Howard, Tessa Kum, Molly Tanzer, Maurice Broaddus, Aliette de Bodard, and many more. Oh, and some cat named Nathaniel Hawthorne. Kirkus singled my story out in their review, describing it as "troubling and timely," which is basically everything my fiction aspires to.
"Above the Light," my eerie ode to night hiking, will appear in Mahvesh Murad and Jared Shurin's killer new anthology, The Outcast Hours. The book drops on February 19, but is now available for pre-order from Simon and Schuster. I'm thrilled to appear alongside new work from Marina Warner, China Miéville, Jeffrey Alan Love, Daniel Polansky, Genevieve Valentine, Indrapramit Das, Lauren Beukes, Lavie Tidhar, and Silvia Moreno Garcia, to name but a few. Seriously, check out the full table of contents and Mahvesh and Jared's notes on their editorial approach on Tor.com; I can't remember the last time I saw such a richly diverse anthology.
Finally, I'm pleased to announce I will be a guest at the Outer Dark Symposium of the Greater Weird 2019, taking place in Atlanta on March 23rd. Each year organizers Anya Martin and Scott Nicolay put together a one-of-a-kind event that gathers a diverse array of writers and other artists to discuss the past, present, and future of the Weird in all its fabulous manifestations. Tickets and more details about the event can be found here, but the broad strokes are that all are welcome and it will take place at Silver Scream FX Labs, the practical effects studio who created the Cheddar Goblin for Mandy, among other gloriously ghastly creations. I'll be participating in various panels and also give a reading, and if you can make it be sure to say hello so we can knock knuckles, glasses, or noggins, your choice!
That's it for now, but there's something big slouching toward Bethlehem, so check back soon…