A War in Crimson Embers (as Alex Marshall)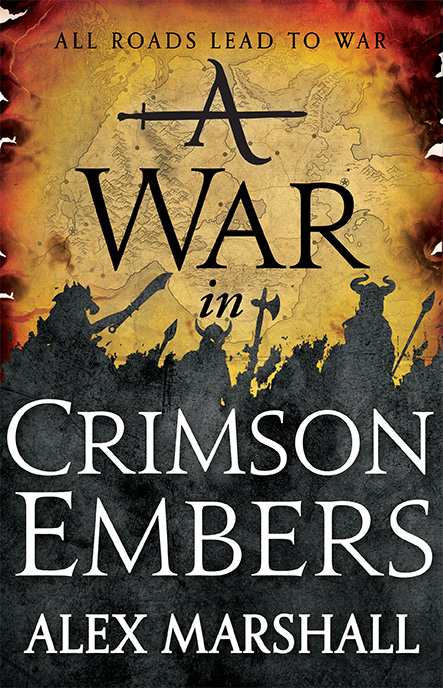 Former warrior queen and now pariah, Cold Zosia wakes in the ashes of a burning city. Her vengeance has brought her to this – her heroic reputation in tatters, her allies scattered far and wide, and her world on the cusp of ruin.
General Ji-hyeon has vanished into the legendary First Dark, leaving her lover Sullen alone to carry out the grim commands of a dead goddess. The barbarian Maroto is held captive by a demonic army hell-bent on the extermination of the Crimson Empire, and only his protégé Purna believes he can be saved.
Zosia must rally her comrades and old enemies one last time, for what will prove the greatest battle of her many legends…if anyone lives to tell it.
"The final installment of the Crimson Empire series is the best of them all. Marshall's weaving of the tale is engaging and exciting, giving readers just enough hope that the ragtag band will prevail. Marshall is a master of imagery, giving a rich setting to the story and painting a picture that transcends the page. " -Romantic Times
A Blade of Black Steel (as Alex Marshall)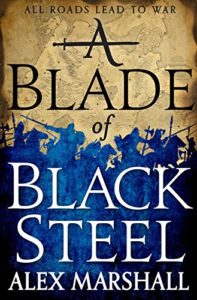 After five hundred years, the Sunken Kingdom has returned, and brought with it a monstrous secret that threatens to destroy every country on the Star.
As an inhuman army gathers on its shores, poised to invade the Immaculate Isles, the members of the Cobalt Company face an ugly choice: abandon their dreams of glory and vengeance to combat a menace from another realm, or pursue their ambitions and hope the Star is still there when the smoke clears.
"Doubles down on all the elements you loved in A Crown for Cold Silver—suitably diverse characters, rampant gallows humor, buckets of swears, and all—while amplifying its inherent saltiness and unconventionality and scaling down the action to create a more intimate space for its coterie of n'ere-do-wells."―Barnes & Noble Sci-Fi & Fantasy Blog
A Crown for Cold Silver (as Alex Marshall)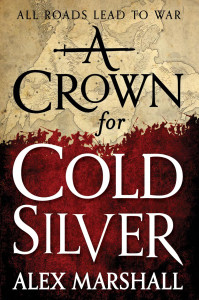 Twenty years ago, feared general Cobalt Zosia led her five villainous captains and mercenary army into battle, wrestling monsters and toppling an empire. When there were no more titles to win and no more worlds to conquer, she retired and gave up her legend to history.
Now the peace she carved for herself has been shattered by the unprovoked slaughter of her village. Seeking bloody vengeance, Zosia heads for battle once more, but to find justice she must confront grudge-bearing enemies, once-loyal allies, and an unknown army that marches under a familiar banner.
"Marshall is simultaneously tender and reverent…shows just how much heart and thought lurk beneath the book's savagery and bleakness. A Crown for Cold Silver drags epic fantasy through the mud — but it does so with wit, wonder and wisdom." -NPR
The Folly of the World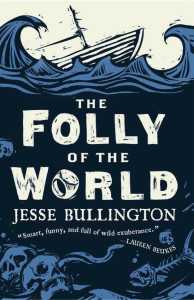 The Saint Elizabeth Flood of 1421 destroyed towns and villages overnight, the land between the warring cities of Geertruidenberg and Dordrecht becoming a desolate inland sea, mouldering church spires jutting up like tombstones raised to the lost souls below.
Yet even disaster can be profitable for the right sort of individual, and into this flooded realm sail three conspirators: a deranged thug at the edge of madness, a ruthless con man on the cusp of fortune and a half-feral girl who can swim like a fish. Working together, they could find reward beyond reckoning, but such promise is no guarantee against betrayals born of rage and greed.
In a world where peasants feast while noblemen starve, these three uneasy confederates will learn that theft, fraud and even murder are simply part of politics as usual in the now island-city of Dordrecht, and even if their scheme succeeds they may not live long enough to enjoy it…
The Enterprise of Death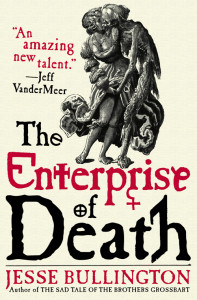 As the witch-pyres of the Spanish Inquisition blanket Renaissance Europe in a moral haze, a young African slave finds herself the unwilling apprentice of an ancient necromancer. Unfortunately, quitting his company proves even more hazardous than remaining his pupil when she is afflicted with a terrible curse. Yet salvation may lie in a mysterious tome her tutor has hidden somewhere on the war-torn continent.
She sets out on a seemingly impossible journey to find the book, never suspecting her fate is tied to three strangers: the artist Niklaus Manuel Deutsch, the alchemist Dr. Paracelsus, and a gun-slinging Dutch mercenary. As Manuel paints her macabre story on canvas, plank, and church wall, the young apprentice becomes increasingly aware that death might be the least of her concerns.
The Sad Tale of the Brothers Grossbart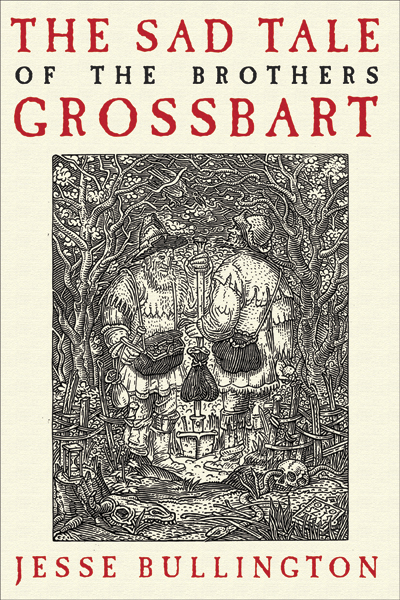 In the plague-wracked and devil-haunted darkness of Medieval Europe, an elite few enjoy opulent lives while the majority eke out a miserable existence in abject poverty. Hungry creatures stalk the deep woods and desolate mountains, and both sea and sky teem with unspeakable horrors. For those ill-fated masses not born into wealth, life is but a vicious trial to be endured before the end of days.
Hegel and Manfried Grossbart couldn't give a toss. Being of low birth means little, after all, when the riches of the mighty wait just inside the next crypt. The grave-robbing twins know enough about crusading to realise that if one is to make a living from the dead, what better destination than the fabled tomb-cities of Egypt? But the Brothers Grossbart are about to discover that all legends have their truths, and worse fates than death await those who would take the red road of villainy…